Baby Items Starting with P
Powder
This might be a basic, but essential baby item. I am not talking about puffing a baby's face with powder rather use it wiser.
Before dusting a baby powder, ALWAYS make sure to dry the baby's skin thoroughly. Moisture plus powder is a bad combination. Dust the powder in the baby's armpits, neck (the best place for the fungi to grow), around genitals and buttocks.
In recent years, baby powders were under the radar of causing cancer. TRUE?! Who knows!
I have been using Himalaya baby powder since Baby V was a newborn. It is s formulated with herbal ingredients and the key ingredients are: Vetiver, Yashada bhasma, Olive oil and Almond oil.
Play Mat & Play Gym
Baby Play Mat & Play Gym are the most versatile baby items with their many benefits for the development.
These baby items are a good investment when a baby is ready and eager to move its arms and legs. When they begin to develop new skills, it is essential to have something to stimulate their senses and to encourage them. Get them going during tummy time.
The playmat that I have has Alphabets on one side and animals on the other. It is a soft mat and Baby V loved playing on it. The material doesn't absorb urine so it could be cleaned quickly. It is fun and educational.
Play gym is a soft mat with an arch that supports toys that dangle and the baby can reach out to grasp it. They have baby-safe mirror, kick-activated piano, some may have lights. Once the baby is able to sit, he can enjoy the piano.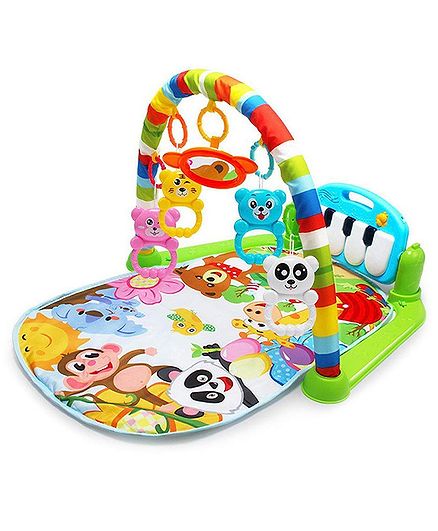 Developmental benefits of play gym:
Improves cognitive skills
First time they hit that toy and see what they do. They are going to hit it again and again letting them know the cause and effect.
Visual perceptive skills
Did you know a baby's vision is blurry beyond 8-10 inches? The bright and contrast colored toys help to develop their visual skills.
Hand-eye coordination
The above two skills enhance a baby's hand-eye movements.
Motor skills
Make tummy time the fun time. Lay them on their tummy on the play gym and they will use their muscles of neck, arms, legs.
Pacifier
Baby V DID NOT like it. Every time I put a pacifier in his mouth he used to spit it out!
The only reason I added it in this baby items list is because I wanted to share my experience regarding it.
So, what are your thoughts about using a powder, a pacifier? Did you get a play gym for your baby?
This post is part of BlogchatterA2Z 2021